Organising a holiday that doesn't leave you broke by the end of it, can really make travelling stressful. You're supposed to be relaxing but all you can worry about is the bill. So how can you make the holiday experience more care-free than stress-full?
Plan my friends, plan everything from the plane tickets to the resort. When looking for holiday destinations you should consider places that offer the same attractions at half the cost of travelling somewhere more "touristy". For instance, I really wanted to go back to Spain because I love the culture, intrinsic passion and just everything about it really. But when I did a comparison of costs between mainland Spain and one of the Canary Islands (Lanzarote), not only were the ticket prices on flythomascook quite different but investigating further showed that everything about mainland Spain is more expensive. So I decided to give the Canary Islands a go and found it just as full of the Spanish "fuego" as the mainland.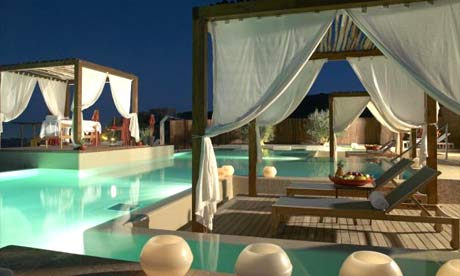 Fun
Having a budget doesn't mean you have to budget the amount of fun you can have. What I did was try and find 'all-inclusive' packages from the same company that offered more than one attraction. That way I worked out a good deal for a number of different activities which worked out cheaper than if I had to go to an individual company for each individual activity.
I chose to have an awesome time through Catlanza, they have a giant catamaran that sailed around Papagayo Bay, Lanzarote. They picked me up from my hotel Club Playa Blanca in a bus filled with other super excited singletons and took us to the port. Once we were on the waters, they dropped anchor and we could swim around, have lunch (prepared on deck and is delicious), I can say we all definitely enjoyed the complimentary bar. Why I chose them was that they offered (and I took advantage of) their jet skiing and snorkelling offers. I got a whole day out on the waters, surrounded by wonderful people, sea life and dolphins in crystal clear waters.
Forty Winks
I think sometimes people think too much about where they are going to stay when they're on holiday. When looking for a place to stay, you need to think about what you're going to be doing in the country? Hiking, bus tours, swimming, diving, sun tanning? If you're doing an island tour, all you really need is a safe place to lay your head and a clean bathroom like at El Jallo or Arte de Obra. If you're just going to suntan and take an occasional dip in the water before heading into town for some shopping then a resort might be your style like Hotel Hesperia Lanzarote. 
I'm not exactly the most organised or best planner out there, I hate Excel lists and numbers in general (I'm just not wired for it) but when it comes to money, I know that I need to make sure I'm not spending unnecessarily and getting the best deals, so that I can have the most fun and spending as little as I can.  
RESORT THRILLS AND CHEAP BILLS